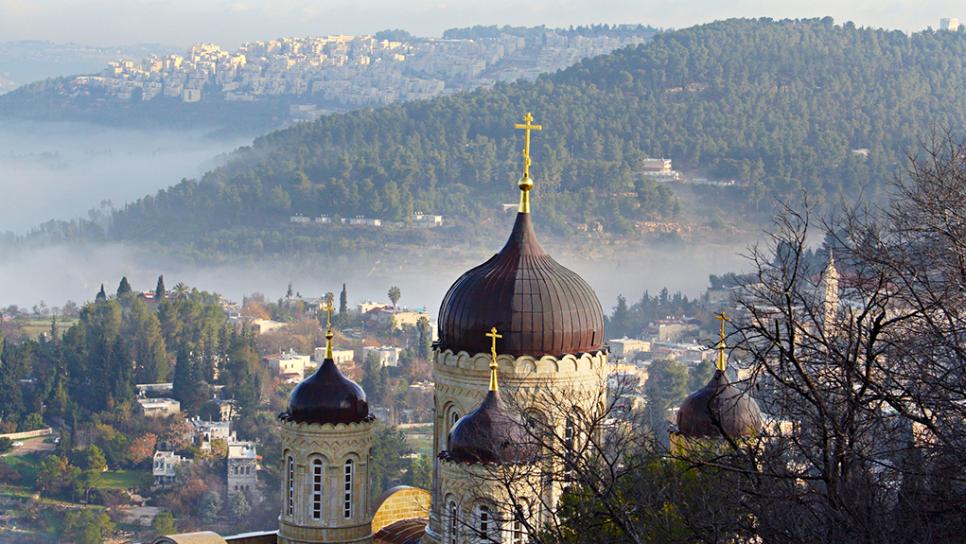 09 Days Holyland Program
05 Nights Bethlehem/02 Nights Nazareth / 01 Night Jordan 
Day 01 : Airport-  Madaba – Mount Nebo – Dead Sea
Arriving Queen ALIA International Airport, Amman. Meet & Assist by Our Representative, Start our tour to Have a Full Day Visit to Madaba, where you can have an opportunity to see the famous Madaba map of the Holy Land. Next, visit Mt Nebo, overloo king the same view that Moses saw before he died the promised land. Continue our Day to Drive to the Lowest Point on Earth the Dead Sea where we can enjoy our floating, then Drive Back to the Hotel for Dinner & Overnight.
Day 02 :  Jericho – Mt. of Beatitudes Galilee
After Breakfast, transfer to King Hussein Bridge, Cross Border to the Holyland, drive to visit Mt. of Beatitudes, Visit the   Church of Multiplication "Tabgha" then on to the church of the Primacy of St. Peter and to Capernaum the town of Jesus. After lunch (Peter Fish) Boat Ride in the Sea of Galilee Check in to hotel in Galilee for dinner and Overnight.
Day 03 : Nazareth – Cana of Galilee – Wedding Church 
Breakfast , proceed to have view of Caesarea Philippi (Golan Heights).  After lunch proceed to Nazareth to visit the church of the Annunciation & St. Joseph the Carpenter then to Nazareth village, Continue to Cana of Galilee, to visit the Wedding Church proceed to Mt Tabor (Mount of transfiguration) then visit Nien village where Jesus raised dead young man ,Back to the Hotel for Dinner & Overnight .
 Day 04 : Mount of Carmel – Cave of Elijah – Caesarea – Bethlehem
After Breakfast checkout from hotel proceed to Mt. Carmel, and visit the cave of Elijah and also to visit the place where Elijah killed the Baal prophets and then to view the fields of Megiddo (Armageddon valley ), the field of the final battle between the Good & Evil and visit Haifa Garden. After lunch Panoramic visit to  Caesarea Maritima then via Tel Aviv visit Jaffa , check in to the hotel in Bethlehem for dinner and Overnight.
Day 05 : Hebron – Tombs of Abraham – King Solomon's Pool
After breakfast proceed to Hebron City (if permission given) via Halhul, to visit Prophet Joanna's Tomb, then to Hebron to visit the tombs of Abraham, Sarah, Isaac and Rebecca. Visit King Solomon's pool then to David's well. After lunch visit Shepard's field and to the Church of the Nativity. Back to hotel for Dinner and Overnight.
Day 06 :Mount of Olives – Mount Zion – the Tomb of King David
Breakfast , Full Day Visit to Mount of Olives, Chapel of the ascension, visit the Pater Noster  ( Where Jesus taught his disciples "Our father" prayer), panoramic view of Jerusalem, then march through the Palm Sunday Road to reach the Garden and the Church of Gethsemane.1 hour prayer. Proceed to visit Siloam Pool After lunch visit Mt. Zion, Upper Room, and the Tomb of King David. Visit the St. Peter in Galicuntu "House of Caiaphas ". Back to the Hotel for Dinner & Overnight .
Day 07 : Jerusalem – Temple Mount – Wailing Wall – Pool of Bethesda
Breakfast, Full Day Visit to the old city of Jerusalem, through the Dung Gate enter the Jewish Quarter to visit the Wailing Wall then to Aqsa Mosque Compound to visit "Temple Mount Area" then visit St. Anne Church, Pool of Bethesda, then on through the  "The Way of the Cross" (up to 8 stations only) then to After lunch visit Garden Tomb (the Tomb of Jesus) and have communion service and prayer in the Garden Tomb. Back to hotel for dinner and Overnight.
Day 08 : Ein Karem –  Shrine of Books – Temple Institute
Breakfast proceed to visit Enkarim where the John the Baptist was born then Beersheba and then to Holocaust Museum. After lunch visit to Shrine of books and Temple institute . Back to hotel for dinner and Overnight.
Day 09 : Baptism Site – Jordan River – Airport
Breakfast, Drive to Visit the Baptism Site the Place where Jesus was Baptized   & Visit to Jordan River, then Drive Back to King Hussein Bridge, Cross Border, Transfer to the Airport for Flight Departure.
Includes:
Full Meet & Assist at Airport & Border upon Arrival & Departure.

All Tours & Transfers by a Deluxe A/C Coach.

Jordan Group Entry Visa .

Holy Land Visa .

Jordan Departure Tax .

Holy Land Departure Tax .

Professional Escort Guide.

Entrance Fees at All Above-Mentioned Sites.

Full Board Meals (Breakfasts, Lunches & Dinners) Start with Dinner & Ends with Breakfast.

01 Pax Sharing Free of Charge for Every 15 Paying.

Mineral Water in the Bus & During the Meals.
Excludes:
Tips , Drinks , Portages & Personal Expenses .